We were getting excited about the incredible Powerball jackpot. Very excited. And we assume you were too! And now, well, things have calmed down a bit. But it won't be for long.
What are we talking about? Well, it's quite obvious that we are referring to the U.S. Powerball's fluctuating jackpot. When we went to bed Saturday night, the U.S. Powerball jackpot stood at $244 million. Admittedly, we were kind of hoping that we had won the top prize, but that was not to be. Instead, some very lucky ticket holder won the top prize. All of that $244 million jackpot went to a ticket purchased in Georgia. One ticket won $244,000,000. It's mindboggling.
And now, just a short time later, our favorite American jackpot is set at $40 million. This is a far cry from the jackpot won on Saturday, and a far far cry from the record Powerball jackpot in January, when it stood at $1.58 billion.
Still, $40 million is not something to make fun about. At that amount, the U.S. Powerball continues to be one of the biggest lottery jackpots in the world today. At that amount, you could still win a life-changing jackpot prize. At that amount, you should really buy your U.S. Powerball tickets right away!
The Incredible Powerball Jackpot Will Rise Again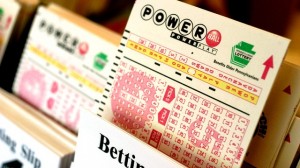 There is one thing we know for sure. Just as the tides go in and out, lottery prizes go up and down. The higher they go, they more stunning the drop when they're won. But that's how it is. And the Powerball jackpot is no exception. It fluctuates from week to week. Sure, it was $244 million last week and this week it is only $40 million. But wait a bit. If no one wins the Powerball this week, or the next week, the rollover streak will ensure that the top prize will reach incredible heights within a very short time.
And then, maybe, just maybe, the Powerball will break its all-time record and soar even higher.
What can we conclude when we consider the incredible fluctuating Powerball jackpot? That no matter if it's at a record high or a seasonal low, if you don't play the game, you won't win the fame. (And the money, that is).
The bottom line is simply: If you want to win the incredible Powerball jackpot, go buy your Powerball tickets now. Good luck!