Tonight, you can play for a very attractive US Powerball jackpot, $257 million in size. In normal circumstances, this would be the biggest jackpot in the world – because no other jackpot came even close to reaching an amount of that size in 2016. But, things have changed. US Powerball's biggest rival, the famous US Mega Millions lottery, has made a return to form and is leading the lottery world right now with an incredible $508 million jackpot. That is the second largest jackpot this year, behind the $1.6 billion US Powerball jackpot from January. Talk about jackpot madness! Tonight, we'll find out if our favourite lottery in the world, US Powerball, can stay in this race and raise the excitement to even higher levels! Just a few hours more until the draw, so click now to buy US Powerball tickets online and play for a $257 million lottery prize!
2016 Has Had its Fair Share of Jackpot Madness Already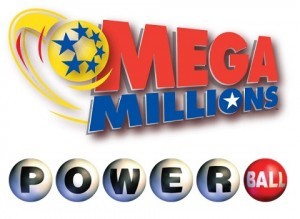 We're only halfway through the year, but 2016 has been crazy so far! Mostly due to the three Powerball jackpots that have been won so far this year – all of them well over $200 million. But we ave written about those jackpots extensively. The current top prize in the US Powerball lottery will, if somebody wins it tonight, be the smallest Powerball jackpot of 2016 so far. We're just reminding you of this fact, because for the first time this year, the Powerball lottery has to take a backseat in favour of the US Mega Millions lotto.
We can't let this happen just like that, obviously. So, while every lottery fan around the world is looking at the $508 million US Mega Millions jackpot, waiting for it to jump to an even higher amount before the next draw, we feel it is our duty to remind you about the fantastic, gigantically enormous US Powerball jackpot of today! Because… because $257 MILLION – that's why!
How Loyal Are You?
Did you hop over to play Mega Millions yet? If so, we can't and we won't blame you for it! We favour our 'own' US Powerball lottery, even when it's at half the Mega Millions jackpot size. But we understand you jus cannot disregard an opportunity to play for a jackpot of over $500 million. We're too fond of the ol' supersized jackpot ourselves! So, instead of telling you to go for the Powerball, for whatever reason, we urge you to play for the Mega Millions jackpot too! Yes, play for both jackpots! Why sell yourself short? Play US Powerball tonight, and then get tickets for the next Mega Millions draw on Friday 8 July!