The Powerball jackpot keeps climbing, but people all across America are still becoming Powerball millionaires. How could that be possible? By matching the five main numbers and taking home the incredible $1 million second prize, of course! As much as we love the Powerball billions, it's not all about the jackpot – secondary Powerball prizes are responsible for a great deal of happiness!
Powerball millionaires know that second is the best!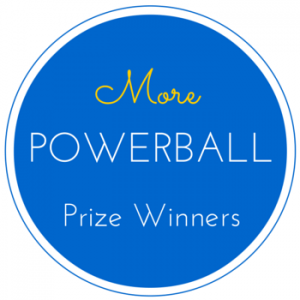 Remember the old childhood rhyme: first, is the worst; second is the best; third is the one with the treasure chest (or hairy chest!)? Well we here at us-powerball.com are definitely not saying that getting first in Powerball is the worst. It does change everything about your life though, which overwhelms a lot of jackpot winners if they don't have the right legal and financial advice. But let's take a look at the second and third part of that rhyme. Powerball second place is amazing! Match five main numbers and you've won yourself an incredible $1 million prize. This prize goes a long way to bettering a person's life, but it may not completely turn it on its head. It's a joyous amount that could go toward an early retirement, take the winner on an around-the-world adventure, or purchase a new luxury home. On Saturday 20 February, the latest Powerball draw, six tickets matched enough numbers to get this wonderful second prize — one of which also had the Power Play multiplier which doubled the prize amount. The five non-Power Play winners came from Connecticut, Georgia, New York, Virginia, and Wisconsin. The $2 million Power Play ticket was purchased in Oklahoma, which is living up to its name and playing Powerball A-OK! Another ticket won the second prize, but the ticket was purchased in California, where the secondary prizes are given on a pari-mutual basis. This means it's based on factors like how many tickets were sold, so the total prize for this winner was only (though we'd still take it!) $416K.
Thirty-two players, not including California, matched four main numbers and the Powerball for the brilliant $50,000 third prize. Five of those ticket holders did the smart thing and got the Power Play, which was 5x this draw for all non-2nd place secondary prizes. The $1 million prize is always just doubled by the Power Play, regardless of the multiplier number for the rest of the divisions. Those five third prize winners took home a stellar $250,000! Friendly reminder to all our Powerball players out there — always remember to purchase that Power Play!
Play Powerball lottery online for $236 million
Secondary prizes are grand, but sometimes you got to dream big. It's time to buy your Powerball tickets online for this Wednesday's draw. The jackpot is soaring once more after its billion-dollar historic rollover streak and is now back up to $236 million! Don't get left behind, get lucky instead!