This isn't the first time we here at us-powerball.com have mentioned the Powerball Power Play and it probably won't be the last. The Power Play is an important addition that any lottery player needs to have in their Powerball arsenal. Don't purchase your Powerball tickets without it!
What is the Powerball Power Play
The Power Play is an optional add-on to Powerball lottery tickets. It can only be added at time of lottery ticket purchase. The Power Play add-on feature multiplies secondary prize amounts. It has no effect on the Powerball jackpot amount.
How does the Power Play multiply?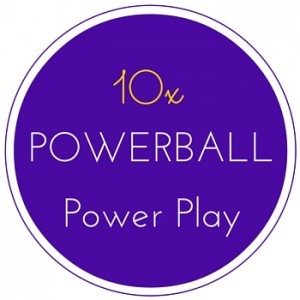 If you've added the Power Play to your ticket and you win the second prize division, the Power Play multiplies your prize total from $1 million to $2 million! This happened just last Saturday, 21 November, when a lucky ticket holder in Nebraska matched all five main numbers and had purchased the Power Play along with their winning ticket. If the jackpot is $150 million or less, the Power Play can multiply the other secondary prize amounts two, three, four, five or ten times! If the jackpot is over $150 million, the Power Play can only multiply by two, three, four or five times. This means that a player could potentially win $500,000 just by matching four main numbers and the Powerball — the third prize tier.
How do I add the Power Play?
Most US states offer the ability to add the Power Play at time of purchase. One exception is California, since their secondary prizes are paid out on a pari-mutuel basis. Luckily, this is of no concern to the many Powerball players who reside outside the United States. You can purchase the Power Play multiplier online alongside your Powerball ticket. Just click the Play Now button on this site and you're on your way to the big leagues!