It's been four weeks since some lucky fellow put his hands on the US Powerball's winning numbers and collected a hefty sum. But this 'losing streak', or maybe we should should just call it 'jackpot rollover run', comes with some exciting news – the updated Powerball main prize is now set to $120 million! Players around the world have a chance to win this amazing first prize – the biggest lottery jackpot in the world today – by simply clicking the appropriate PLAY button to reserve your US Powerball lottery tickets for the upcoming draw on September 2nd!
Marital Bliss
Marriage is a big, life-changing step. Finding that special someone to spend your life with, share memories, travel together and start a family – that's what many consider the essence of life. Whether you decide to go for a big, flashy event or something small and intimate – beginning your life with someone is exciting.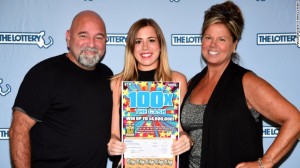 It's even more exciting when your wedding gifts come in form of cash. A lot of cash. $2.6 million to be exact, which is what one couple from Massachusetts got. The Sullivan couple from Raynham wed last week in a small family wedding, where they exchanged vows and promised to stick together through thick and thin.
And that part of the deal won't be hard to keep, as the couple learned, just one day after their wedding, that they won the '100X The Cash' Massachusetts State Lottery. The total win was $4 million, however, since the couple opted to receive the one-time cash option, they were left with 'just' $2.6 million. The happy couple is left to plan the rest of their lives: pay off debt, buy a new car, rebuild their house, and, of course, go on a dreamy honeymoon.
US Powerball Results are In!
While you were dreaming of your perfect wedding, the US Powerball was handing out big sums of cash this past Saturday. The winning numbers – 18, 21, 25, 28, 29 and Powerball 16 – were almost matched by 5 lucky ticket holders, who matched the five main numbers to win $1 million, while one Puerto Rican ticket holder matched the same numbers – with the Power Play – to win $2 million!
Although the jackpot wasn't won, Saturday's draw was far from boring – 476,202 tickets won over $10 million! Want a piece of the fun? You don't even have to be married or in love – we're pretty sure a nice win will take care of that for you… So play US Powerball now!