Granted, American football is especially big in the United States, whereas the United Kingdom is much more of a football, or soccer if you will, oriented country. Still, this special treat for American football fans around the world, is too good to let it pass by without mentioning it. So without further ado, let us tell you about the trip for four to the 'Ultimate Tailgate Party' that you can win by playing US Powerball!
I want to take part! How do I do that?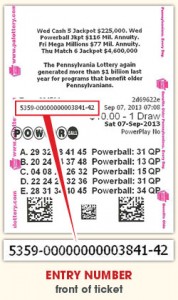 How do you get tickets for this special event? Easy, by playing US Powerball! To enter the Powerball Ultimate Tailgate Party Drawing ('Drawing'), you have to buy a Powerball ticket and enter the ticket's serial number via the Drawing's promotional website during the entry period, that lasts until February 3, 2014. You will receive one drawing entry for each qualifying Powerball ticket entered in the Drawing. Single Powerball tickets, purchased between November 3, 2013 and February 3, 2014, with a value of at least $10 qualify for the Drawing. A qualifying Powerball ticket may contain multiple plays, multiple draw dates as well as the Power Play option. You have the option to submit multiple entries for the Drawing.
Need a reason to start playing US Powerball?
If the fabulous jackpots this American lottery offers on a very regular bases aren't enough for you, this special treat might be your trigger to start playing and winning prizes in the US Powerball lottery. Watch the video below for a taste of what you can expect from this very special event!
To summarize: winners of the Powerball Pro Football Hall of Fame trip will be take a trip to Cleveland, Ohio for the Ultimate Tailgate Party and Pro Football Hall of Fame's Fan Festival. The event will take place from May 1 to May 5, 2014, and includes round trip airfare for the winner plus three guests, hotel accommodations for four (two rooms), meals, ground transportation, admission to the Pro Football Hall of Fame Fan Festival, Pro Football Hall of Fame and Rock n' Roll Hall of Fame, as well as admission to the Powerball winners only Ultimate Tailgate Party event.
If you need more reason than just the $113 million jackpot – this may just be it! Good luck!