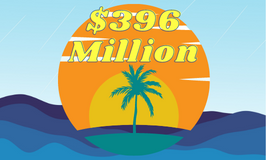 The US Powerball lottery has a brand-new jackpot winner as of Wednesday, January 29th, 2020. One very lucky ticket-holder from Florida had all the winning numbers for a huge pot worth $396.9 million. It was the only one to cover the full winning combination, so the Florida winner will collect the entire prize.
Who Is the Florida Winner?
Everybody is dying to know who scooped the $396.9 million, but, up to this point, the luck winner did not come forward with the winning ticket. There's plenty of time left, but excitement is building up, as millions of players have put in their tickets for Wednesday's big draw.
Initially estimated at $394 million, the jackpot was actually increased after the draw because of massive ticket sales. The cash option for the $396.4 million prize is $274.6 million. It remains to be seen what the Florida winner will choose.
How Long Does the Florida Winner Have to Collect the Jackpot?
In the state of Florida, Powerball winners are allowed 180 days to collect the jackpot. After this, the ticket is no longer valid. The clock is ticking for the winner of the $396.9 million prize, but it is still very early. In fact, most lottery winners take a few days to prepare for the prize collection process, so it comes as no surprise that there is no news at the moment.
It remains to be seen when the Florida winner comes forward. Until then, there is a brand-new Powerball draw coming up. After the win on January 29th, the first prize has been reset to $40 million and it is going to grow with each rollover. So, take a chance and buy your ticket for the US Powerball and you could be the next jackpot winner!