Why do people from all over the world want to play US Powerball? For the jackpots, of course! When people dream about winning the lottery, they dream big and there isn't a bigger game than US Powerball.
Here are the Top 10 biggest Powerball jackpot winners in history. Of course, if you want to add your name to this list, you'll have to choose your Powerball numbers and play Powerball online for yourself!


1) $1.6 billion – January 13, 2016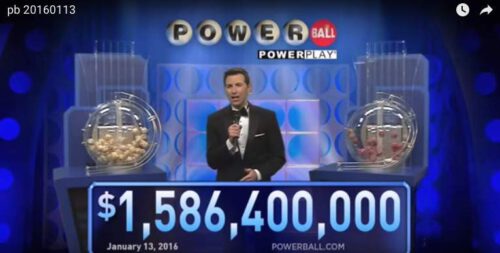 The world watched with bated breath as the Powerball jackpot climbed higher and higher, shattering previous prize records along the way. When the jackpot finally fell after setting a sky-high new record, there were 3 winning tickets: Mae and Marvin Acosta from Chino Hills, California; John and Lisa Robinson of Munford, Tennessee; and Maureen Smith, a 70-year-old from Melbourne Beach, Florida.
The Robinsons made an appearance on NBC's Today show before collecting their prize. They elected to take their share of the jackpot, $528.8 million, in one lump-sum payment of $327.8 million instead of the annuity option.
Smith revealed to the Florida Lottery that she'd been playing the lottery for years with the same 6 numbers. It looks like they paid off big time!
The Acostos declined all media interviews and requests. They waited 6 months to collect their prize and met with a team of advisors in the meantime, a savvy strategy for anyone who happens to win a prize of this amount.
2) $758.7 million – August 23, 2017
In winning Powerball's second largest jackpot, Mavis Wanczyk became the largest single winner of a jackpot in history. The 53-year old from Chicopee, Massachusetts claimed her prize the next day after the Powerball results were announced and took home a cash lump sum of $480.5 million. Wanczyk, a mother of 2, was a long-time healthcare worker in a local hospital. When asked about her immediate plans, she responded:
"I just want to sit back and relax," Wanczyk said. "I had a pipe dream, and my pipe dream has finally come true. I wanted to retire, and it came early."
Needless to say, with that kind of money in the bank, Wanczyk can spend her retirement however she pleases!
3) $687.8 million – October 27th, 2018
Excitement built up in October 2018 as the US Powerball went on a rollover streak. When the first prize reached $687.8 million, everybody wanted a chance to scoop this enormous pot. But on the draw of October 27th, two lucky ticket-holders from New York and Iowa matched all the main numbers and the Powerball and broke the streak. The two winners will receive an equal share of the enormous jackpot amounting to $343.9 million.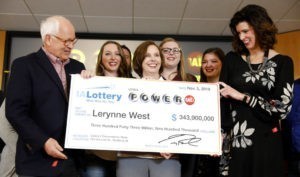 The first of the two to come forward is Lerynne West from Redfield, Iowa. She opted for the lump sum payout worth $198.1 million and plans to share this amazing prize with her family and friends. She also wants to make a difference for people in need. She is setting up the Callum Foundation in honor of one of her grandsons who was born prematurely and passed away. As for her short-term plans, Lerynne wants to buy a big car for family vacations.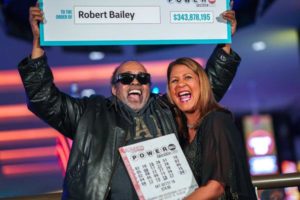 The second of the Powerball jackpot winners is Robert Bailey, 67, from Manhattan, New York. He is a retired federal employee and he has been playing the same numbers in the lottery for the last 25 years. He said that he usually buys his tickets from four different stores, but before the Powerball draw of October 27th, Mr. Bailey bought his tickets from a Harlem deli he went into to get out of the rain. Whether it was fate or not, it was that time that his numbers came up, all the five main numbers and the Powerball.
Mr. Bailey said that he is very happy with his jackpot and that he plans to take his time with spending it. He wants to buy a new house for his mother and make smart investments that will keep his family safe for many years to come. In case you were wondering, he also plans to keep playing his numbers in the lottery. "I will continue to play my numbers until this train runs out", said Robert Bailey.
4) $590.5 million – May 18, 2013
Gloria Mackenzie of Florida is probably more famous for how she won her jackpot than the fact that she was the sole winner of a huge $590.5 million Powerball jackpot. While waiting in line at the grocery store, another patron was kind enough to let the 84-year old Mackenzie cut in front of her. Mackenzie's winning Quick Pick ticket would have therefore gone to the kindly stranger who gave up her place in line, as she also purchased a Quick Pick Powerball ticket. It's fair to say that that's a mistake you'll only make once in life! For everyone else, why bother with lines when you can play Powerball online!
5) $587.5 million – November 28, 2012
Matthew Good of Arizona and Cindy and Mark Hill of Missouri split the massive jackpot.
6) 559.7 million – January 6, 2018
2018 started out strong for the US Powerball. On January 6th, a huge jackpot worth $559.7 million was scooped in New Hampshire. The winners then came forward and collected their prize through the Good Karma Family 2018 Nominee Trust. They wanted to use their Powerball windfall to make the world a better place. They donated $250,000 to Girls Inc. from New Hampshire and to End 68 Hours of Hunger.
7) $564 million – February 11, 2015
Marie Holmes of North Carolina; Andrew Weber, who claimed it on behalf of a trust in Texas; and an anonymous player in Puerto Rico were the winners in this 3-way split. Unfortunately, Marie Holmes went on to make headlines for continuously bailing out her drug-dealing boyfriend, to the tune of tens of millions of dollars. The last we heard, she was seeking help to turn her life around and come to terms with her incredible wealth. We wish her the best of luck!
8) $487 million – July 30, 2016
One winning ticket sold in New Hampshire took the huge prize.
9) 456.7 million – March 17, 2018
After the smash jackpot of January 6th, the US Powerball reached an impressive amount on March 17th. The $456.7 million prize was won in Pennsylvania and the winner opted for the cash lump payment of $273.9 million (before taxes).
10) $448.4 million – August 7, 2013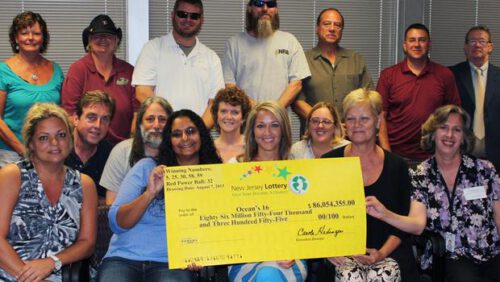 Three winning tickets — a project engineer in Minnesota, a 70-year-old man in New Jersey, and the famous Ocean's 16 syndicate split this enormous jackpot. The Ocean's 16 syndicate was a group of 16 public employees of the Ocean County, New Jersey Department of Transportation who formed a Powerball syndicate. Superstorm Sandy had also affected them all the previous year.
While syndicates are fun and social, as well as a great way to boost winning odds, they can also win huge prizes! The Ocean's 16 syndicate took their share of the prize as a cash lump sum and walked away with $86 million. They are also one of the largest syndicate winners of all time.

The Top 10 Powerball winners have won staggering amounts of money. Reading these incredible stories, it's easy to daydream about the good life of a Powerball jackpot winner. Hey, daydreams are nice, but there's something you can do to make your dreams a reality: play Powerball online, today!