The Multi-State Lottery Association and the Powerball Product Group announced new major jackpot changes in 2020, that came into place starting April 8th, 2020. This came only days after their previous statement that was reducing the starting jackpot to $20 million with a minimum increase of $2 million between drawings. Now, the Powerball officials completely eliminated the guaranteed minimum amount as well as the minimum increase threshold. Previously, the US Powerball lottery had a starting jackpot of $40 million with minimum rollover increases of $10 million.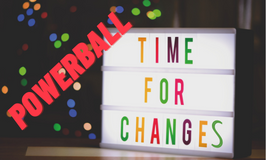 The coronavirus pandemic has affected different aspects of the world economy as well as people's lives. With many US states are under lockdown or similar recommendations coming from the local authorities, consumer behavior has also gone through noticeable changes.
On one hand, tickets sales plummeted. For the draw of March 25th 2020, Powerball ticket sales amounted to a total of $21,695,328. This means a bit over 10 million tickets were sold, whereas for the same jackpot amount ($150 million), in the draw of December 18th 2019, over 15 million tickets were sold, with a total of tickets sales of $30,869,152. For the draw of April 4th, which displayed a jackpot of $180 million, the tickets sales volume was of $23,581,666 . The discrepancy is obvious when compared for the draw of December 25th 2019, when the jackpot was standing at a similar amount ($183 million) and the sales amounted to $34,600,190.
On the other hand, the need for good causes support in these uncertain times is growing exponentially.
The two sets of changes published on Wednesday, March 25th and April 2nd by the Powerball Product Group were necessary to ensure that ticket sales supported the prizes offered in the Powerball game. This way, the US Powerball lottery could continue its operations under the same bi-weekly draws schedule as well as continue to contribute to good causes in all the 48 US Powerball jurisdictions.
Powerball players in many U.S. lottery jurisdictions were/are under shelter-in-place orders or recommendations from their governors or mayors, which have affected normal consumer behaviors. Just like other enterprises around the world that made adjustments, we are making proactive changes to continue to offer the world's premier lottery product. We would like to offer support to our loyal players during this unprecedented time. We are committed to being America's favorite jackpot game.

Gregory Mineo, Powerball Product Group Chairman and Maine Lottery Director. (March 25th, 2020)
These changes are necessary to ensure that ticket sales can support the Powerball jackpot and other lower-tier cash prizes. Our number one priority is making sure that the Powerball game can continue to assist lotteries in raising proceeds for their beneficiaries. Since last week, more states and cities have asked their residents to stay at home, which has affected normal consumer behaviors and Powerball game sales. In response to the public health crisis, interest rates have declined. As a result, additional game sales are necessary to fund comparable jackpot amounts."

Gregory Mineo, Powerball Product Group Chairman and Maine Lottery Director. (April 2nd, 2020)
No decision has been made, however, on how long the changes will be in place.