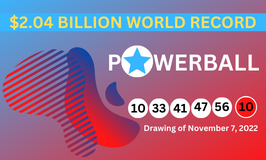 A lone winning ticket scooped the world record $2.04 Billion Powerball jackpot after matching all six numbers drawn on November 7, 2022. The winning numbers were: 10-33-41-47-56/10. The conquering ticket was sold in Altadena, California.
The US Powerball jackpot was running since August 3, 2022 and was on its 41st draw when it was finally won. The first estimate presented a $1.9 Billion but final sales pushed the jackpot to $2.04 Billion. This is the largest Powerball jackpot but also the world's largest lottery prize, to date!
Powerball Product Group Chair & Pennsylvania Lottery Executive Director, Drew Svitko said: "Congratulations, to the lucky ticket holder in California and the millions of other Powerball players who won other prizes in the drawing. On behalf of participating lotteries, I would like to thank our players who joined us on this historic jackpot run. A portion of every Powerball ticket purchased will stay in your state to support your local communities."
This was also the opinion of Joseph Chahayed, the owner of the service station on West Woodbury Road were the winning ticket was purchased.
He said: "I'm happy for California; I'm happy for L.A. I'm more happy for Altadena. There are a lot of poor people here; they deserve it." While his son, Danny Chahayed, added: "I'm hoping the person who won is actually from the community, so that way they know the struggles of the people around here and they can give back,"
The Powerball drawing of Monday, November 7 was delayed to the next morning at 8:57 a.m. EST after some technical issues were encountered. The Minnesota lottery requested additional time to finalize its sales and play data.
Drew Svitko declared: "Protecting the integrity of the draw is of upmost importance, and we were able to do that during this historic drawing with the cooperation of all participating lotteries,"
The lucky Powerball winner of this historic jackpot has one year to claim his prize. As the ticket was purchased in California, the ticket-holder of the biggest Powerball prize will not be able to remain anonymous.
You may not be the winner of the first prize, but there were more than 11.2 million winning tickets (adding up to $98.1 million), so don't forget to check the Powerball results and see if your numbers match any of the winning ones.