Syndicates are a great way to play the lottery with friends and boost your winning odds. With more tickets in the game, you get better chances of scooping the pot, and it really does pay off, as the biggest Powerball syndicate winners can attest. These lucky syndicates won hundreds of millions of dollars and made lottery history! Read their amazing stories and then, try a Powerball syndicate of your own!
---
1. The Power Pack Syndicate – $731.1 Million
The cash collection did not happen until May, when they chose to get their win as a lump sum of $546.8 million. This means $366.6 million after federal and state taxes.
There are not too many details related to the winners' identity as they decided to claim their prize anonymously, an option they have according to the legislation of this state. We don't know if they were playing together regularly or as a coincidence, if it's a family syndicate or an office pool, or how many members their group has. However, these details are bound to surface at some point if they are locals of the small town of Lonaconing – a struggling coal-mining a town of about 300 families located well off the beaten track.
2. Anonymous Family Syndicate – $487 Million
Unlike other lottery winners who were surprised by their new public status, the New Hampshire thought ahead and checked the No Publicity box on their Powerball tickets. According to state laws, lottery winners can claim their prizes as trusts without revealing their actual identities, which is just what the family did.
Their lawyer, William Shaheen, claimed the prize on behalf of the New Hampshire syndicate and told the press: "There couldn't have been two better people or a better family to win this money. They're going to do great things with it."
As it turns out, this was extremely accurate. Right after their got their Powerball money, the New Hampshire family donated a generous $100,000 to the End 68 Hours of Hunger foundation.
---
3. The Tennessee Twenty – $420 Million
Just after Black Friday and the beginning of the US holiday shopping season, the Tennessee 20 syndicate got a boost in their shopping budgets! On November 29th, 2016, the syndicate was the sole winner of the giant US Powerball $420 million jackpot!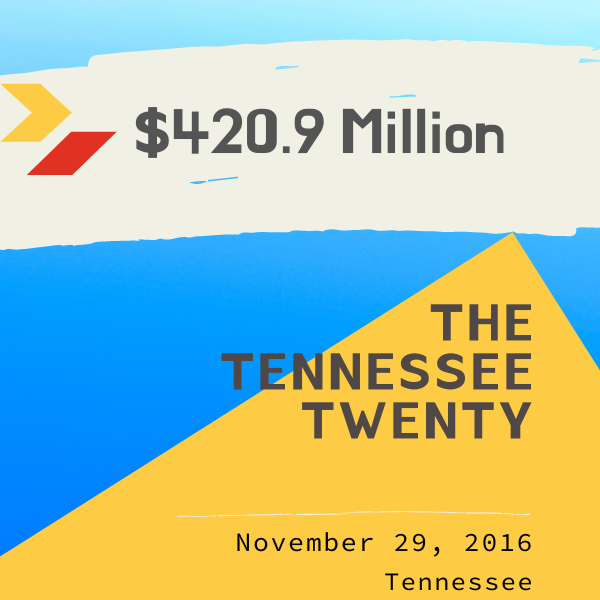 The Tennessee 20 syndicate was a group of 20 co-workers and friends at the North American Stamping Group, an auto parts plant. They had been playing US Powerball together for as long as 8 years, buying $120-worth of Powerball tickets for the bi-weekly draws on Wednesday and Saturday.
Their patience and perseverance surely paid off big when they won almost half a billion in the US Powerball.
The group chose the cash option and brought home $254 million ( after the due taxes were paid out). Each member of the Tennessee 20 received $12.7 million. While some intended to retire straight away, others planned to continue working at the plant. They also want to use their Powerball fortunes to help others as well. "Now we can do more and help more. There's going to be a lot of people blessed through this. All these people have always had a heart to help people and be there for people," said Steve Huffman, one of the Tennessee Twenty.
---
4. The Shipping 20 – $241 Million
The Shipping 20 syndicate won a $241 million US Powerball jackpot on June 13th, 2012. At the time, it was the largest lottery win in Iowa. The syndicate was comprised of 20 employees of the shipping department of the Quaker Oats cereal plant in Cedar Rapids, Iowa. Ranging from 35 to 64 in age, the 18 men and 2 women had combined seniority of 686 years with Quaker Oats!
The syndicate had their own rules for how to play Powerball. When the jackpot would rise above $100 million, each member of the syndicate would chip in $2 and they'd buy tickets.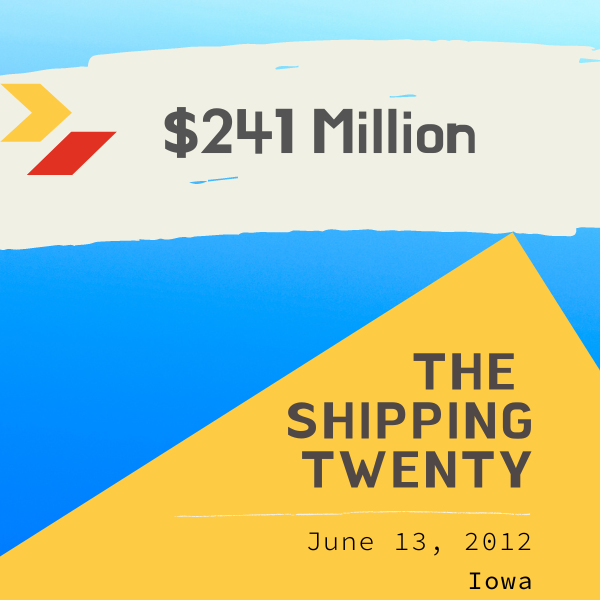 After winning the jackpot, the group formed a trust, also called the Shipping 20, to receive the prize and keep the identities of the members anonymous. The Shipping 20 opted for the lump-sum payout of $160.3 million. Each member of the group received $8 million.
11 members of the group said they'd retire immediately, while others wanted to continue working at the plant, at least until the plant could hire new workers!
---
5. SEPTA 48 – $173 Million
While it only ranks no. 4 on our list, the SEPTA 48 syndicate is the largest Powerball syndicate to take home the first prize. They got their lucky break back on April 15th, 2012 when they scooped a $173 million jackpot.
The members of the syndicate were all co-workers at SEPTA in Pennsylvania. They had a weekly office pool to play the lottery. Each contributed $5 and one of them would go to buy the Powerball tickets. However, just before the April 15th draw, one of the office pool regulars almost opted out.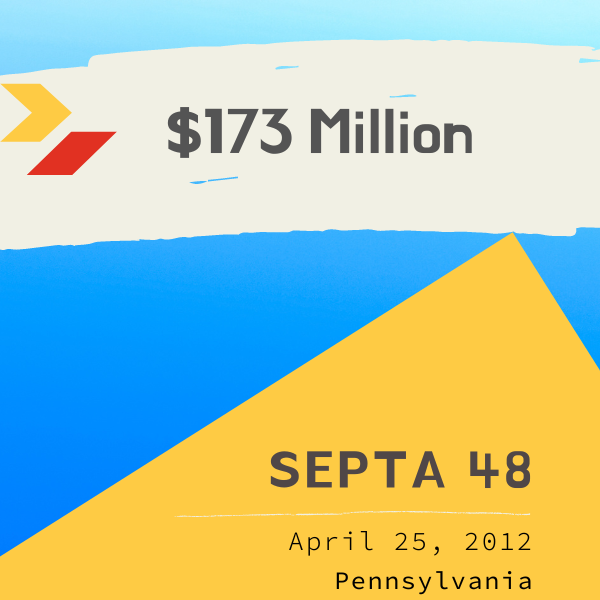 Luckily for him, Matt Sheridan, one of his co-workers, owed him some money so he put in his share as well. He almost missed the $173 million jackpot. "When we found out, he ran over and gave me a hug," Mr. Sheridan told the press.
And if this weren't enough proof that winning the lottery takes being in the right place at the right time (and actually buying a ticket, of course), Marylouise Wagner's makes it very clear. When she joined the syndicate, she had just come back to work after recovering from multiple medical procedures.
She survived an aggressive form of stage three breast cancer and also had heart surgery. Just two weeks after coming back to SEPTA, she won the Powerball with her colleagues. Mrs. Wagner said "I just want to give my message to everyone. Don't ever give up because you never know what's right around the corner."
The SEPTA 48 syndicate chose the lump sum payout on their Powerball jackpot. This was worth $107.5 million, which left each of them with a $2.4 million share of the prize.
---
6. Ocean's 16 – $149.3 Million
The $448 million US Powerball jackpot won on August 7th, 2013 is one of the biggest Powerball jackpots ever. Among the 3 jackpot-winning tickets from that day was the one held by the Ocean's 16 Syndicate, a group of 16 employees of the Ocean County New Jersey Department of Vehicle Services. Their share of the prize amounted to $149.3 million and they chose the cash payout for the prize, netting $86 million.
The 16 co-workers were all good friends who had been playing the lottery together for years. When the time came for them to collect their prize, they arrived together to the New Jersey Lottery on a bus that they barely managed to rent out. Talk about solidarity! Many of the 16 members were victims of Superstorm Sandy. Winning the Powerball turned things around for them and gave them the chance to rebuild their lives.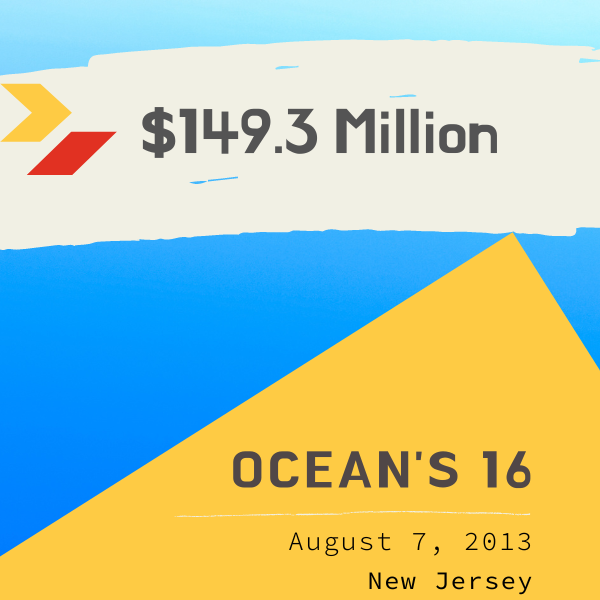 When they attended the press conference for their jackpot win, it was one member of the Ocean's 16 who stood out from the others. His name is William Seeley and you can see him in the picture above wearing a straw hat and large sunglasses. "We're very happy, happy, happy!", said the long-bearded man. His dream was to buy off a piece of land in the woods, move into a log cabin and watch NASCAR races.
And if this weren't enough proof that winning the lottery takes being in the right place at the right time (and actually buying a ticket, of course), Marylouise Wagner's makes it very clear. When she joined the syndicate, she had just come back to work after recovering from multiple medical procedures.
But Mr. Seeley had a much more pressing plan for his Powerball money. He said he would use it to pay for his father's cancer treatment. Beyond any doubt, this was the best part about winning the lottery for Mr. Seeley. "I told him I loved him and that you got nothing to worry about now except getting better," he said. As for the other members, they said they plan to rebuild or renew their homes after the Superstorm Sandy blow, and some of the Ocean's 16 said that they would like to retire and live the lottery-winner life.
---
7. FlaMass Family Joint Venture – $148.8 Million
Another excellent example proving that Powerball is worth playing as a family is the FlaMass Family Joint Venture syndicate. On April 23rd, 2014, Christopher Centrella bought Powerball tickets together with his mother, Suzanne, and her father, Louis. This was a lucky move for them and it brought them a whopping $148.8 million.
They also went for the cash payout on their jackpot, which left them with $87 million. Mr. Centrella told the press that he intends to put this money to good use not only for himself but for many other people who can benefit from it. "A lot of people are going to be helped with this money, a lot, and that's the honest to God's truth," he said.
He said that they weren't at all interested in making headlines with their lottery adventures or becoming public figures. They wanted "to fade away into obscurity" and go on with their lives. "Nothing has changed. We're the exact same people and we just want to be left alone.", said Mr. Centrella.
---
Odds-Boosting Lottery Fun
These Powerball syndicate winners won millions in prizes and the financial freedom to retire early, or not – it's their choice! If you want to try out this amazing play option for yourself, you don't need to round up 20 of your friends and co-workers to form a Powerball syndicate. You can play Powerball syndicates online in just a few easy steps! Good luck!
---
Syndicate Winners FAQ
What is the biggest Powerball syndicate winner?
The biggest Powerball syndicate winners of all time are a group from West Maryland who won $731.1 million in January 2021. They chose to remain anonymous after their win.
What is the Powerball syndicate with the largest number of players?
The Powerball syndicate with the largest number of players is the SEPTA 48 group. The 48 work colleagues from Pennsylvania won $173 million in April 2012.
What is the latest Powerball syndicate to win a big jackpot?
The latest Powerball syndicate to win a big jackpot is the Power Pack. This group from the town of Lonaconing  in West Maryland won a $731.1 million jackpot in January 2021 and did not claim their prize until May.