Do you want to get tickets for the world's biggest lottery? Great! You can do it right here! But, first let us tell you all about the game rules and the exciting formats you can try out. If you want to buy US Powerball tickets online, then here is everything you need to know!
---
The Rules of the Game
The rules are simple. For every Powerball ticket you buy, you have to select two types of numbers, like this:
Choose your 5 main numbers from 1 to 69.
Choose your Powerball number from 1 to 26.
Add the Power Play multiplier to your ticket – optional feature.
Match all the 5 main numbers and the Powerball to win the jackpot.
See, it's so easy to get in the game! But can you buy Powerball online? Yes, you most certainly can, and it only takes a few minutes. Where? On theLotter, the world-leading lottery messenger service.
When Are the Powerball draws?
Powerball draws take place on a weekly basis on Wednesdays and Saturdays at 22:59 Eastern Time (21:59 Central Time, 20:59 Mountain Time, 19:59 Pacific Time).
You can put in your tickets for a draw until the cutoff time, which is one hour before the official start time. The cutoff time varies from one state to another, so check what it is according to your location. When you buy Powerball online on theLotter, you will see the draw time converted to your time zone and you can see how much time you have left until the upcoming draw.
How to Choose the Powerball Numbers
When selecting Powerball numbers, you have 2 options: use the automatic Quick Pick feature to fill in your form with random numbers or choose them manually. There are advantages and disadvantages to both options. While the Quick Pick does not increase your Powerball odds, it does reduce the likelihood that you'll have to split the jackpot if you're lucky enough to win it. For many people, selecting their own lottery numbers is a big part of the fun! Perhaps they've got their own Powerball lucky numbers that they believe will bring them luck.
Powerball Game Formats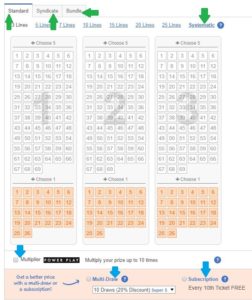 If you want to increase your Powerball odds, there are some strategies you can use when you buy your Powerball tickets online. With Powerball syndicates, you can get more entries for less money. You go into the game with more tickets and only pay for a share of the cost. This way, you have more chances of scooping a prize. You can also try systematic forms and buy tickets with every possible combination of your lucky numbers. If you match some of the winning Powerball numbers, you will have them on more tickets and win more prizes.
---
Add the Power Play Multiplier
When you buy Powerball tickets, you can add the Power Play multiplier to increase your secondary prizes 2, 3, 4, 5 or even 10 times. This is an optional feature that you can add to your ticket. Power Play does not increase the jackpot. As for the second prize, it can only double it, raising it from $1 million to $2 million.
The other secondary prizes in the Powerball can be increased 2, 3, 4, 5, or even 10 times. The 10-time multiplier is available only when the jackpot in the game is below $150 million. The Power Play multiplier is actually the last number selected in Powerball draws. It is drawn from the same type of machine as the other numbers and is therefore completely random. The Power Play multiplier adds $1 to the cost of a ticket but can pay off big time.
Fun Fact – In 2005, a record 110 players won the US Powerball 2nd prize, which at the time was $100,000, for matching all 5 main numbers. The Multi-State Lottery Association, which operates Powerball, suspected fraud. The truth was actually much stranger. A fortune cookie that was handed out in Chinese restaurants featured the winning numbers: 22-28-32-33-39. However, 21 of the lucky second prize winners opted for the Power Play and received a $500,000 prize. Definitely worth the extra dollar!
---
How to Buy Your Powerball Tickets Online
Buying your Powerball tickets online with a lottery messenger service is safe, legal, and convenient. theLotter is the world-leading lottery messenger service and your top option. It brings the world's biggest lotteries to international audiences by purchasing official tickets from authorized retailers on behalf of online players. The service then scans a copy of the ticket and uploads it to the player's account. In the video below, you can see how theLotter works:
As opposed to many sites that offer players a chance to bet on the outcome of a lottery draw, a lottery messenger services provide actual, physical tickets to a lottery and therefore, a guarantee that the prizes will be paid, no matter how large.
The Advantages of Buying US Powerball Tickets Online
A comfortable process – You can arrange everything, from purchasing your Powerball ticket to checking the draw results and winning Powerball numbers, from anywhere you are and from the comfort of your own home! With theLotter, the US Powerball is only a few clicks away!
Buy an official Powerball ticket – Using a lottery messenger service means that you'll have an official entry to US Powerball and if you're a winner, you'll collect your prize just like anyone else. Some sites offer online lottery formats but what they really offer is the chance to bet on the outcome of a lottery. If you win a big jackpot, say $1.6 billion, you're at the mercy of a private company to pay your prize. With theLotter, you get an official Powerball ticket and a scan as proof of purchase.
Peace of mind – A paper lottery ticket from an offline store is easy to lose, and losing it would automatically lose any prize you could possibly win with that ticket! When you buy it online, your ticket details and proof of purchase are stored online in your personal account, and your paper ticket is kept in a safe. Short of putting your ticket in Ft. Knox, buying your Powerball tickets online with a messenger service is the safest way to go!
Automatic win notifications – Your numbers are checked automatically, so if you win, you'll be notified directly by email or SMS. A win will not pass by unnoticed, even if you forget to check the latest US Powerball Results!
Buy tickets for the whole Powerball family – from home! In addition to US Powerball, there's also South Africa Powerball, New Zealand Powerball, and Australia Powerball. Getting your tickets online opens up a world of possibility that doesn't exist at your local retailer.
Once you've bought your ticket for the US Powerball, you'll want to stay tuned and check the Powerball results to see if you've won a prize!
---
US Powerball FAQ
How is the Powerball jackpot paid out?
US Powerball rules stipulate that jackpot winners have the option to choose their prize as a cash lump sum or an annuity paid out in 30 payments over 29 years. Powerball lists jackpot figures using the annuity option. Players who opt for the cash lump sum take home less money.
How long before the draw can you purchase a Powerball ticket?
Tickets for Powerball draws can be purchased until approx. 22:00 Eastern Time at the night of the draw, but you should get them a bit earlier when buying Powerball online.
How many draws is a Powerball ticket good for?
Every Powerball ticket is good for one draw only. If you want to participate in several draws, you can try Multi-Draw packages or you can set up a subscription, but these will get you individual tickets for each upcoming draw.
Do you have to be a US citizen to buy Powerball tickets?
No, you do not. According to the rules of the Powerball lottery, you do not have to be a US citizen to take part in the game.
Do you have to buy tickets with Power Play?
No, you do not. The Power Play multiplier is an optional feature that you can add to your Powerball ticket to get the chance to increase the secondary prizes you win.
How do you choose the Power Play number?
When you add the multiplier to your ticket, you do not choose the Power Play number. This is drawn along with the lottery numbers from a separate barrel. The drawn Power Play number determines how much the secondary prizes will be increased – 2, 3, 4, or 5 times (or 10 times when the jackpot is lower than $150 million).