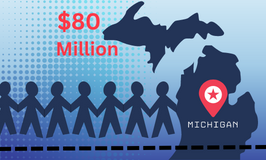 There is one family in Michigan that is about to start a brand-new life and it's all thanks to the Powerball lottery. Phillip Chippewa from Suttons Bay is the proud winner of an $80 million Powerball jackpot. He matched all the 5 main numbers and the Powerball – 01-09-22-36-68/22 on September 21st, 2019 and now he has come forward to collect his prize.
Mr. Chippewa is the father of 7 and the grandfather of 21 and he came accompanied by the whole family at the prize collection ceremony. "With seven children and 21 grandchildren, I've always said that I might not have the most money, but I am rich with family," he said. "Now, I have all the money I'll ever need and can help my family for generations. That means everything to me."
The Story of the Legendary Win
Whenever the jackpots would get big, Mr. Chippewa would buy a couple of Powerball tickets. On September 21st, he said he walked into Barrels and Barrels and he almost walked out without getting the tickets. Fortunately for him and his 7 children and 21 grandchildren, at the last moment, he remembered and he bought four lines.
With that, he put the lottery out of his mind. After the draw, his sister-in-law called them to tell them that the winning ticket for the Powerball jackpot was purchased in Suttons Bay. She even left a follow-up message to remind Mr. Chippewa to check his numbers.
He went to look for the tickets in his truck and much to his surprise, the numbers on the first of the four lottery tickets were the winning ones. He couldn't believe his eyes. His wife and son thought he was making a joke, so his son looked up the Powerball winning numbers on his phone and read them out loud while the Chippewa's checked the ticket. By the time he finished reading, both of them had tears of joy in their eyes.
They still couldn't believe that this was happening to them so they drove up to Barrels and Barrels to check their ticket one more time. "As soon as we walked in, the clerk asked: 'Are you guys the big winners?' I handed him the ticket and said: 'We're about to find out.' "Then, the lottery terminal in the store printed out a receipt that said that they should contact the lottery officials. In that moment, they knew for sure that they were the big Powerball jackpot winners.
Breaking the Good News to the Family
The Chippewa's wanted to let everybody know that they had won $80 million in the Powerball, so they held a family meeting with all seven of their children. "There were a lot of emotions in that room because we've always put our family first and it hasn't always been easy, but all of them were so happy for us," said Mr. Chippewa about the event.
Eventually, he decided to go for the cash option on the Powerball prize, which netted $55.3 million. After paying the due taxes on his jackpot, Phillip Chippewa was left with $42 million. That is the budget for his family's new life.
The Big Plans for the Chippewa Fortune
Mr. Chippewa said that the first step towards their new lives is buying homes for themselves, but also for each of their children. He also has two important items on his personal wish list – a brand-new Harley Davidson motorcycle and a white Dodge challenger.
Aside from that, he intends to continue working every day. He told the press that his boss asks him every single day why he keeps coming back and he always reminds him that he was hired to do a job, which he refuses to abandon simply because he won the lottery. In time, both he and his wife are going to retire, but they want to continue making an effort for a community that has been good to them.
He said that they have been together for 25 years and that they've always helped others. Mr. Chippewa is a member of the Grand Traverse Band of Ottawa and Chippewa Indians. "Winning is life-changing, but it's not going to change who we are," he said.